One

Solution


Zero

Restrictions
ioversal presents the new AV Production Suite VERTEX. One unified solution for media playback and editing, multi-channel audio playback, interactive show and light control over any number of systems with any number of users.

VERTEX by ioversal is a software suite which comes with all features needed in modern AV Production. One version, with zero restrictions selling at an introductory price of 2750EUR. VERTEX will be available for purchase through the ioversal online store in the fourth quarter of 2019.


Release

20.05.20
ioversal announces the release of VERTEX. To celebrate this milestone, we will be hosting a launch event in Cologne on the 19th & 20th of May! Click here for more information and to save your spot!
VERTEX

Highlights

Hardware
Independent

---
Use the hardware best suited for your project. Build your own hardware depending on your performance needs or rely on a turnkey system provided by a partner, hardware provider.


Multi System
Playout

---
Combine any number of VERTEX systems via Network to create a scalable playout solution for media playback and projection mapping.


Interactive
Show Control

---
VERTEX makes show control easy allowing for scripting of complex command macros or using trigger and wiring interactions to seamlessly integrate and control any technical environment.


Integrated
Cloud Storage

---
Up to 100TB of secure, geo-located cloud storage integrated directly into VERTEX. Easily collaborate with content creators and clients without having to use external hard drives.



Multi User
Preview Editing

---
VERTEX features a next generation render pipeline allowing for an infinite amount of previews! Work live and in previews simultaneously and fade your previews to live at any time.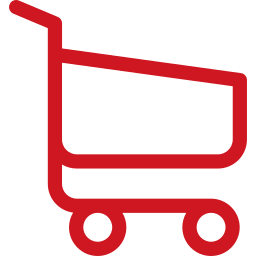 Online
Store

---
No more waiting for your order to arrive: Simply purchase your VERTEX license online and activate it on your system. If you prefer a hardware license dongle, user configurable dongles are available in the ioversal online store.


Adaptive

Warping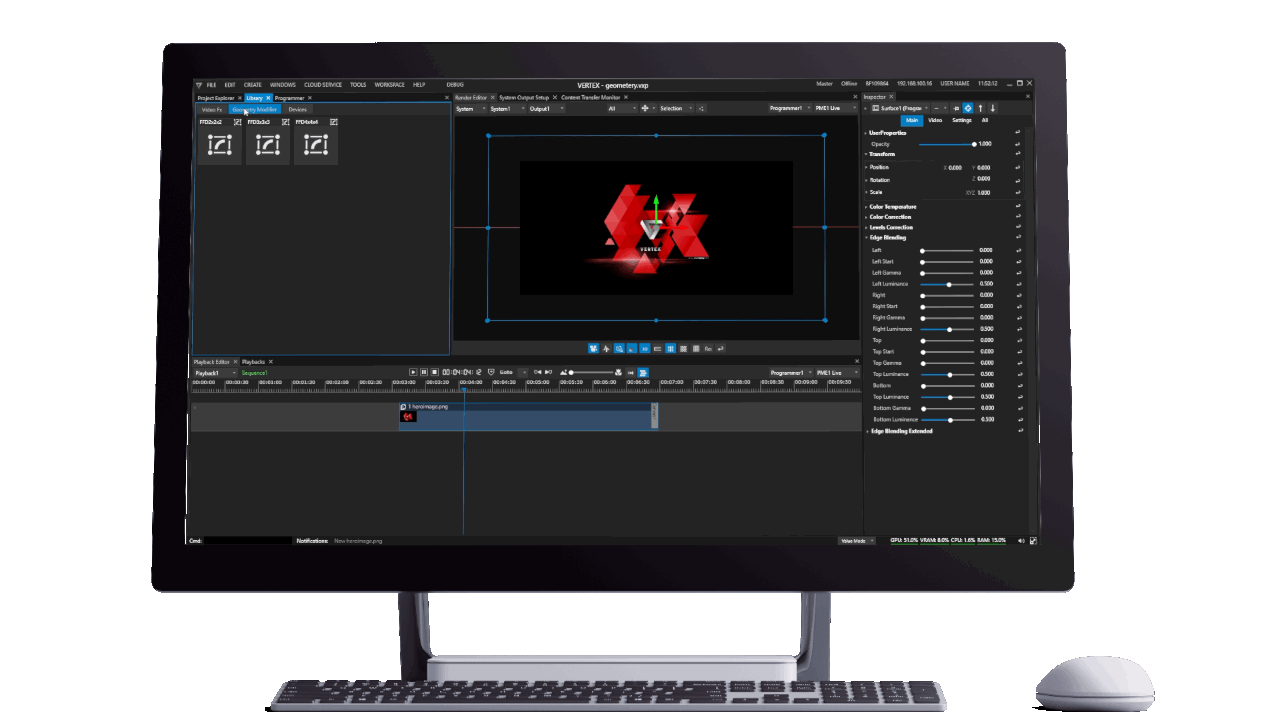 Stack any number of warping modifiers on selectiv areas of any object to accurately map even complex surfaces.
Editing

Features

Multi User
Workflow

---
Multi User by Design, VERTEX brings collaboration to a new level allowing users to work together in one project.


Pixel Space
Workflow

---
Composite your content in an infinite pixel space and arrange your outputs from any connected system.


Layerfree
Timeline Editing

---
No more layer restrictions, clip containers can be arranged on timelines freely.


Geometry
Modifier Stacks

---
By assigning different FFD modifiers onto separate parts of a model and by stacking multiple modifiers on top of each other even complicated geometry can be handled with ease.


Auto
Softedge Blending

---
Let VERTEX calculate your soft edge blends for you while being able to finetune the result manually.


Sub Composition
Workflow

---
VERTEX allows any sequence to be nested into another sequence giving the user to popular sub-composition workflow known and loved from programs such as After Effects.
Hardware

Independent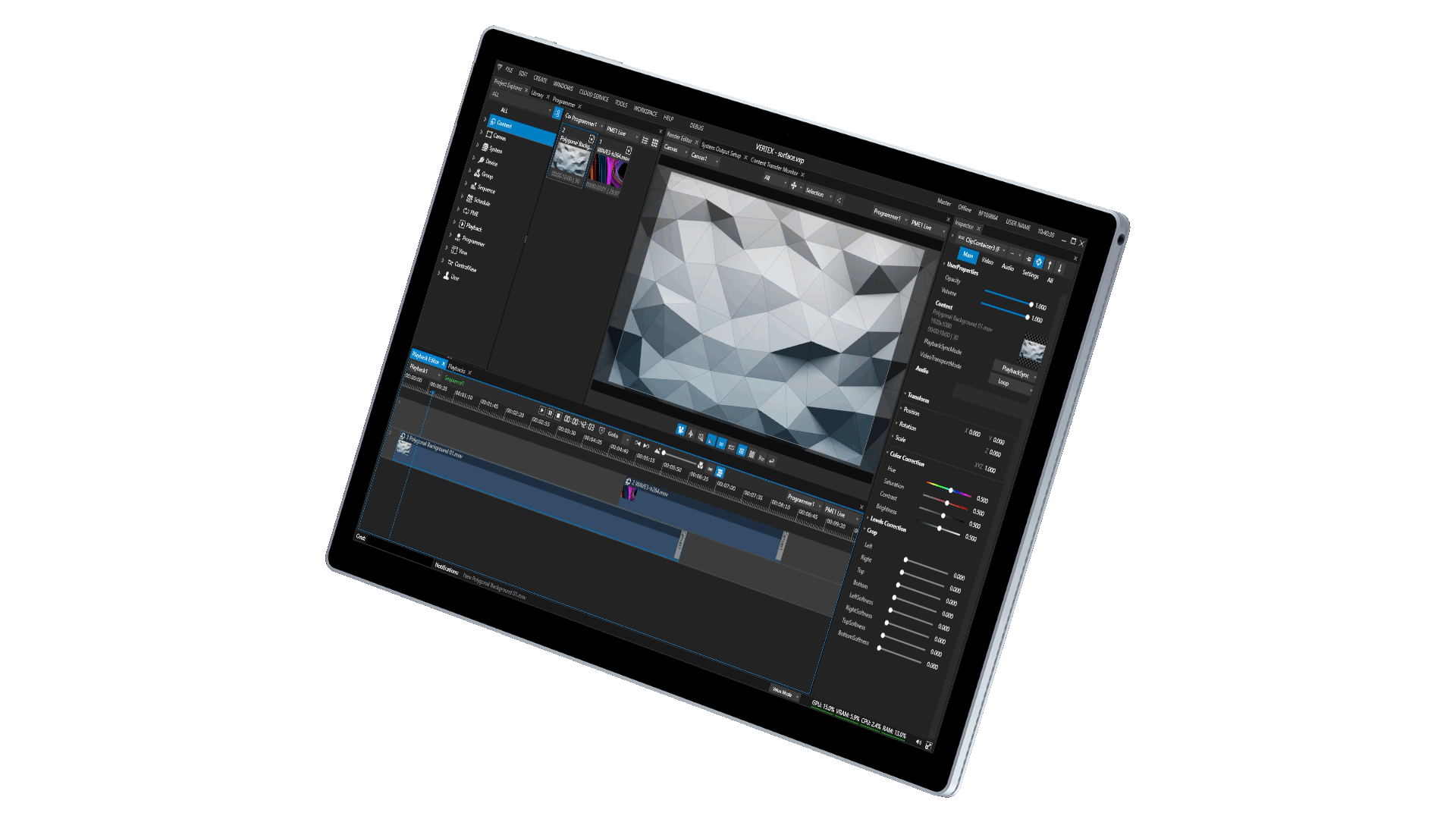 Advanced

Features

Content
Management

---
Manage large amounts of content with ease: Distribute Media using peer to peer technology, getting faster the more systems you add! VERTEX also features a unique content versioning system as well as tagging and notes.




Codec
Support
---
Use any one of up to 180 supported codecs. Popular formats such as ProRes, H264, Tiff Seq, Photoshop are supported. Use the file format best fit for your project or let VERTEX choose the optimal format for you, depending on your needs.




NOTCH
Integration
---
Full NOTCH support to playback and control Notch-blocks. Take advange of the VERTEX Hardware Independecy and build your own hardware to support even the most challenging Notch Projects.


Vioso
Camera Calibration
---
Automated projector warp and blend calibration by the industry leading solution VIOSO Integrate.


Generic
Device Control
---
VERTEX comes with an extensive device library allowing the user to control projectors, production switchers and light fixtures right from within VERTEX.


Network
Session Management
---
Any VERTEX system in a network can take any role, acting as a playback system, a UI system, or both, giving the user full flexibility and backup strategies.

Get your Vertex Trial here